When Erin Wallis started as School Counselor for Sapulpa's Freedom Elementary about 2 and a half years ago, her idea was simple: include a "Random Acts of Kindness Week" in the school year, helping to teach students the importance of putting others first.
As kids often do, they responded in a much larger way that us adults seldom expect.
That first year, students completed over 1000 Acts of Kindness in five days.
Wallis wanted to wrap up the week in a big way,  so she got on stage and cut 8 inches of her hair to donate to the Beautiful Lengths program. The students were agape. Inspired, even.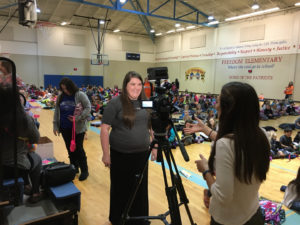 Hair donations are made into free, real-hair wigs by Pantene Beautiful Lengths campaign partner HairUWear and are distributed for free to female cancer patients through the national network of American Cancer Society wig banks.
She had donated once before, in memory of her cousin who had passed away of a brain tumor when she was only 21 years old.
Two years later, her hair had grown long enough to do another donation. This time she invited any students or staff who wanted to donate to join her on stage at the end of their now-annual Random Acts of Kindness Week.
She mistakenly thought that four or five others might want to contribute, so she was surprised when the number of donators continued to climb. By the end of Random Acts of Kindness Week, more than 26 students, staff and parents had signed up to joined stylists on stage to take part in the donation.
Wallis went around and introduced each of the folks who had showed up to shed their locks. Nearly everyone was donating in memory or honor of someone they knew who had been affected by cancer.
Thankfully, Sapulpa Times (along with a few others) was there to capture the event live. See the whole thing in the video below.
Learn more about the Beautiful Lengths program.
Featured Image: Sarah, a styles at Creek County Choppers Salon on Dewey in Sapulpa, cuts the hair of one of the donors.