Most restaurants don't have six soft openings before doing a grand opening.
But then again, the newly-opened Crossroads Cookery is nothing if not unique.
The restaurant, located at 117 E. Dewey Ave. is quickly becoming known for a lot of things: a classy but approachable atmosphere, an appealing menu of food you won't find anywhere else in Sapulpa, and the surprising combination of services, with home-roasted coffee, dinner and cocktails, and an almost-old-fashioned ice cream parlor.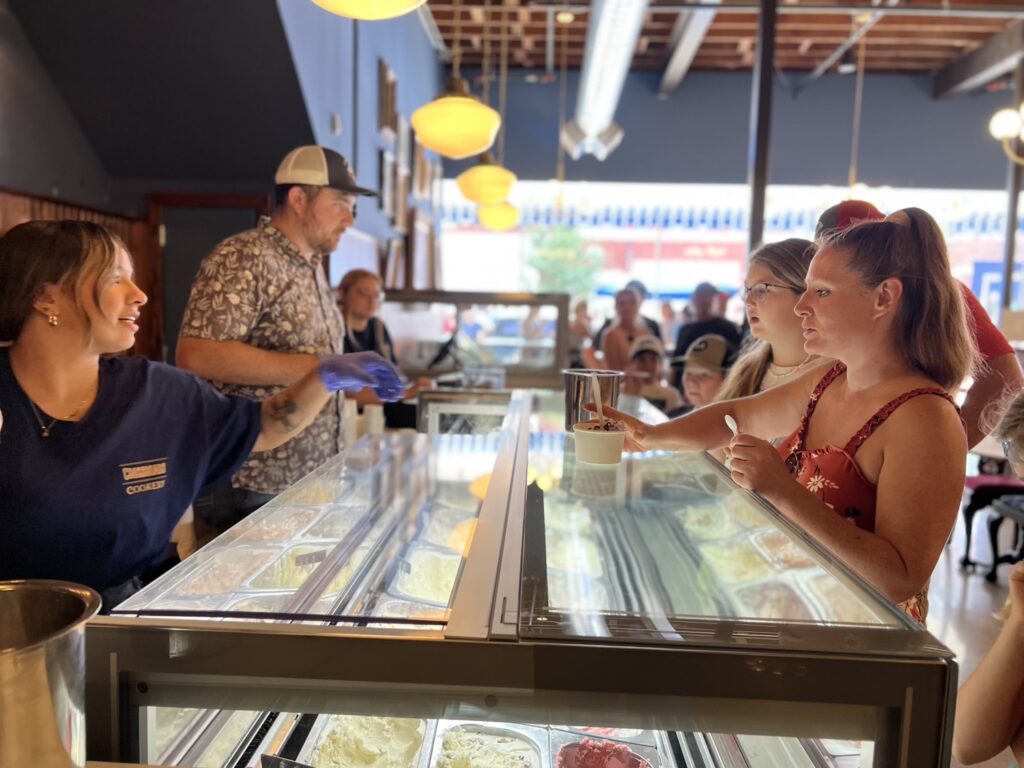 The restaurant is nice enough for a date night, but not so buttoned up that you can't enjoy ice cream with the kids.
Food Operations Director Jacob Birdwell said the experience is all by design, and it started with those six soft openings they held in the weeks before they finally opened on Tuesday.
"We set the date and we knew what things we wanted to work on, just to be able to get open," Birdwell said. Of course, we're still ironing out some of those wrinkles. I'd say that every day we find a new wrinkle to iron out and refine, but we wanted to get the big systems figured out, like 'how do we get food out the window?' We didn't actually get the kitchen completed until two days before our first big event at the (Route 66) Blowout. So yeah, there was a lot of nailing down what we were doing and refining. We want to give the customers the best experience we could with what we have."
And what they have is as unique as their offerings. To start, their menu is exquisite: dinner items like Shrimp Frites ($18.95) and Citric Salmon ($19.95) find a comfortable place next to delicious desserts like Seasonal Crumble ($8.95) and Chocolate Overkill ($8.95).
The decor is…is stunning too strong of a word? Really, there's nothing else like it in this town, and there hasn't been for a long time.
A rich combination of dark, ornate wood, combined with the charming collection fine art set against a backdrop of "SeneGence Blue" provides almost an air of royalty to the restaurant—and that's not something you see very often in Sapulpa.
Formerly an event center, the space was a consignment furniture store before being purchased by the Kante Group several years ago. When the group began talking about what they wanted to do with it and the several other buildings they had purchased—which included the Tee Pee Drive-In and the Burnett Mansion, it's safe to say that people were skeptical. After all, when was the last time Sapulpa had something like this?
Birdwell is not exactly new to Sapulpa, having moved his family here in 2017, shortly thereafter opening Sapulpa's first coffee shop in five years—CTX (114 E. Dewey). It wasn't long before the Kante Group took notice of the young entrepreneur.
"Working with Roger (Kante; General Manager of the Kante Group) was like going to business school and leadership training," Birdwell said. "He's big on education and teaching, and he sat down with us and pushed us to work on culture, developing ourselves, and developing others."
The focus on developing a unique experience appears to be paying off, though it didn't come easy; when COVID hit, this project, like many others, had to be put on hold while the world tried to cope with a pandemic.
Later, eyebrows raised when it was announced that the Kante Group would be the first to receive a portion of the City of Sapulpa's $4M Economic Development Incentive in order to purchase kitchen equipment. Most of the critics wondered why a group in charge of a multi-million-dollar makeup company needed money from the city at all, but city officials insisted it was a good choice.
"The Crossroads Cookery is sustainable and aligns with the public's desires as outlined in the Downtown Master Plan," Sapulpa Economic Development Director Mark Lawson said at the time.
The Downtown Master Plan included the need for more nightlife in Sapulpa, and a year later, it's becoming a reality with the Cookery joining nearby Chuck-It Axe Co. (12 S. Water Street) with a commitment to staying open later.
Currently, the Cookery closes at 10 pm on weekdays and 11 pm on Fridays and Saturdays. The plan appears to be working, as the restaurant finds customers well into the late evening—something we didn't use to see in downtown Sapulpa.
Since the grand opening this week the response has been as amazing as the restaurant itself. A steady brunch, lunch and dinner crowd occupies the restaurant at most times, and even during the non-peak hours, coffee and ice cream provide a welcome excuse to get out of the office and walk the streets of a changing downtown Sapulpa.
And make no mistake—downtown Sapulpa is changing. With its commitment to being open late and seven days a week, The Crossroads Cookery appears to be leading the charge.
Sapulpa's newest restaurant is hiring for several positions, and welcomes any who wish to apply. You can do so at crossroadscookery.com/careers