The Heart of Route 66 Auto Museum is preparing a 60-percent expansion to boost its visibility, exhibit space, and revenue streams.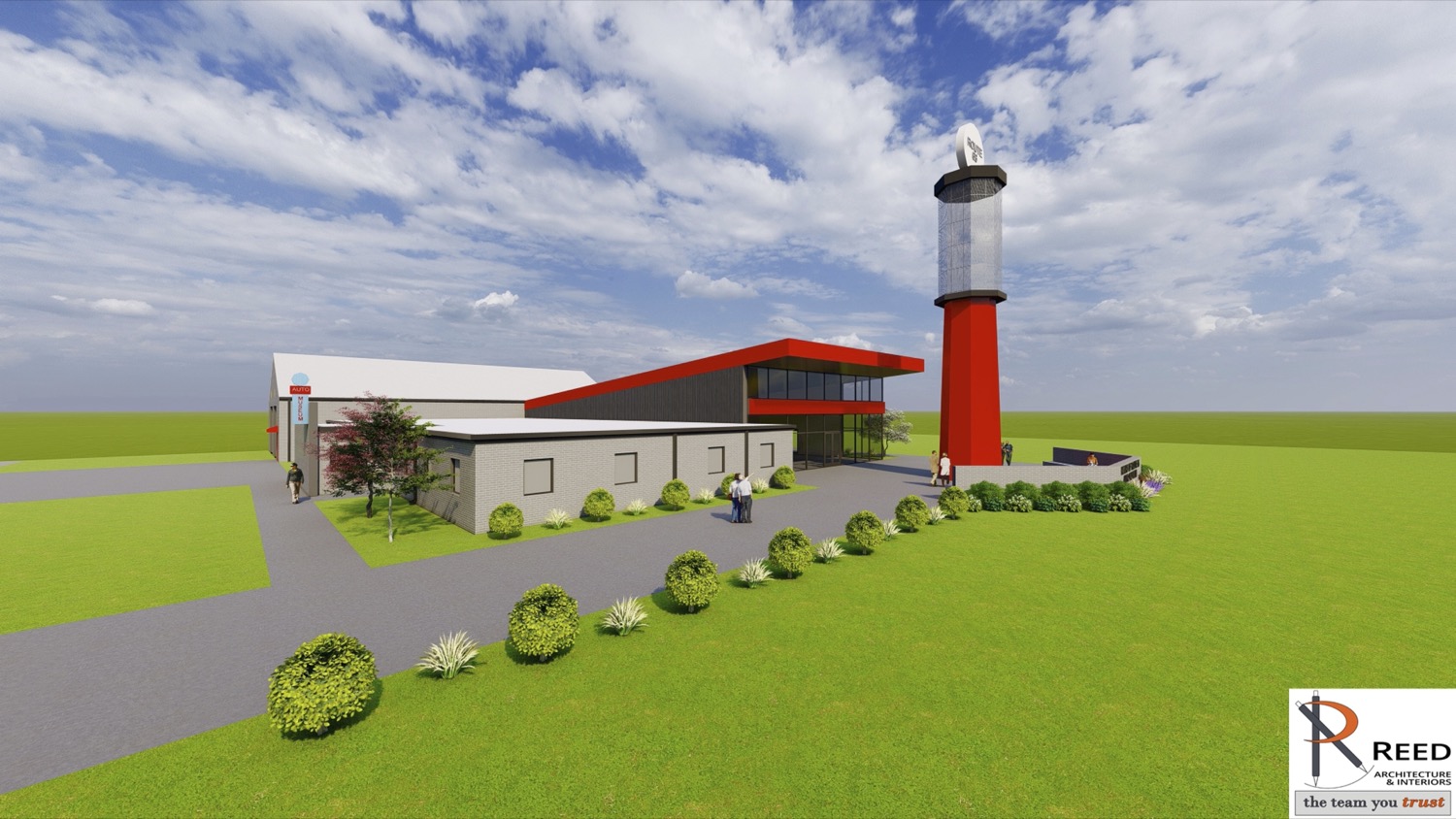 Executive Director Lina Holmes hopes to complete this 7,400-square-foot addition in time for the historic highway's 2026 centennial.
"That is our goal," said Richard Holmes, founder and president of the nonprofit Sapulpa museum.
This project, designed by Reed Architecture and Interiors, includes 5,000 square feet under roof and a 2,400-square-foot outdoor plaza. It promises a dramatic increase in the museum's 36-vehicle inventory and other exhibits.
"We have many others we'd like to display," said Lina, Richard's wife. "Our founding members are all car people and they all have collections."
This expansion will improve customer traffic flow throughout the existing 12,000-square-foot complex.
"The museum now has an L-shaped layout," said David Reed, founder and principal of Sapulpa-based Reed Architecture. "This expansion will allow visitors to walk a complete loop through the museum and see all of the exhibits without having to backtrack or retrace any steps."
The addition's southern face will boast a broad glass wall allowing Route 66 travelers to gaze into the museum for the first time.
"This gives the museum a much stronger street presence," said Reed. "That large glass façade will present a really nice backdrop to that giant gas pump."
The plaza will connect the museum to that 66-foot-tall pump, a prominent Route 66 landmark.
"That outdoor plaza will allow people to interact with the pump in a personal way," said Lina. "It will make a great selfie stop."
The expansion also gives the Heart of Route 66 Auto Museum room to host seminars, meetings, banquets, and other events.
"We need more income streams besides the ticket gate and gift shop," said Lina. "This addition will give us very large spaces, both inside and out, that we may use to host events."
The nonprofit museum has established a three-tiered cornerstone program for donors to participate in this expansion. It is also pursuing foundation grants and taking donations through its website, www.heartofroute66.org.
"Cornerstone members at the $10,000 level will have their names on the cornerstone when we start construction," said Richard. "The others will have their names on plaques inside the museum."
This expansion parallels a neighboring park development by the city of Sapulpa. The Route 66 Rock Creek Park will provide a tourist-friendly playground and rest stop connecting the museum to:
Several miles of original roadway, which remain in daily use.
The Tee Pee Drive-in Theater.
A beautiful water tank mural.
Bridge 18 at Rock Creek, the highway's oldest surviving trestle bridge.
This year the Heart of Route 66 Auto Museum has enjoyed its highest attendance since opening in August 2016. Lina attributed some of that to an ongoing Saturday morning promotion allowing visitors to ride in a classic 1922 Packard convertible. This $11 offer will continue through October.
"We've had a lot of wonderful visitors from all 50 states and several foreign countries," said Richard. "It's just been really exciting, seeing how many friends we've made around the world."
To learn more about the 13 Sahoma Lake Road museum, check out www.heartofroute66.org, call museum executives at (918) 216-1171, or send an email to heartofroute66@gmail.com.