There are worlds of enchantment and artistry right here in Sapulpa and five of them were on display during this year's Creek County Master Gardener Garden Tour on Saturday, June 18th. 
Four of the featured locations were (spectacular and unique) home gardens, one a local historical site—the Chief Sapulpa Cemetery on South Division.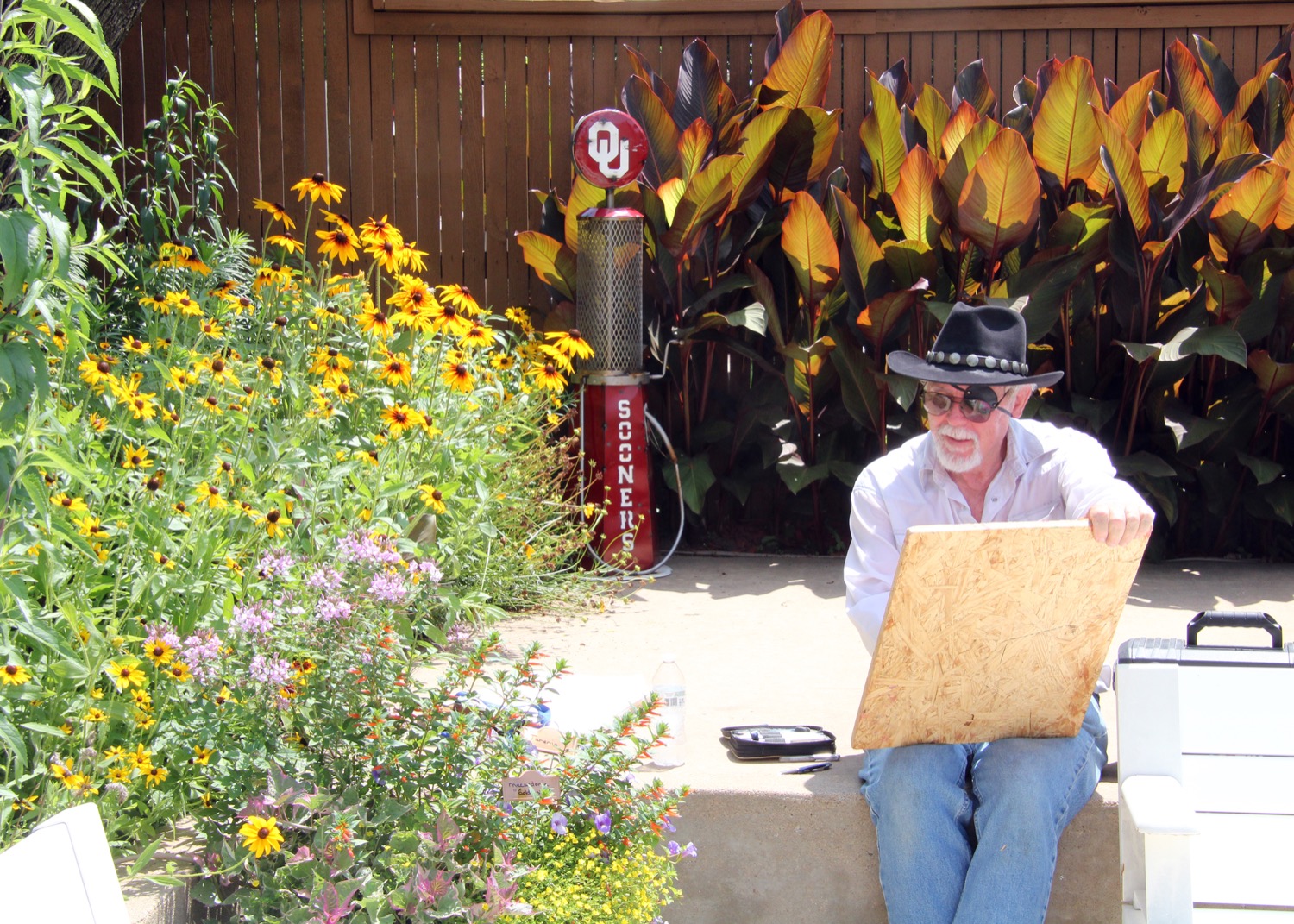 Additionally, this year, for the first time, Sapulpa Arts arranged for two local artists to paint each garden "en plein air" (French for "in the open air") during the tour. The art created during the tour will be available to view and purchase at CTX Coffee at an art show to be scheduled for sometime later this year.
Sapulpa Arts Director Sheri Ishmael-Waldrop deemed the live art experiment a success, telling Sapulpa Times, "The ten plein air artists had a wonderful morning painting and visiting with tour visitor. It was a wonderful day in the beautiful gardens of Sapulpa."
On Saturday morning, I first made my way to Canyon Road, just northeast of the Creek Turnpike off of Highway 66 to visit the home and garden of Bonnie and Pat McDaniels.
Upon entering the gate to their spectacular backyard, you'd be forgiven for thinking you'd fallen down Alice's rabbit hole into a wonderland of inspiration and whimsy. The creativity and dedication lavished upon the space is evident.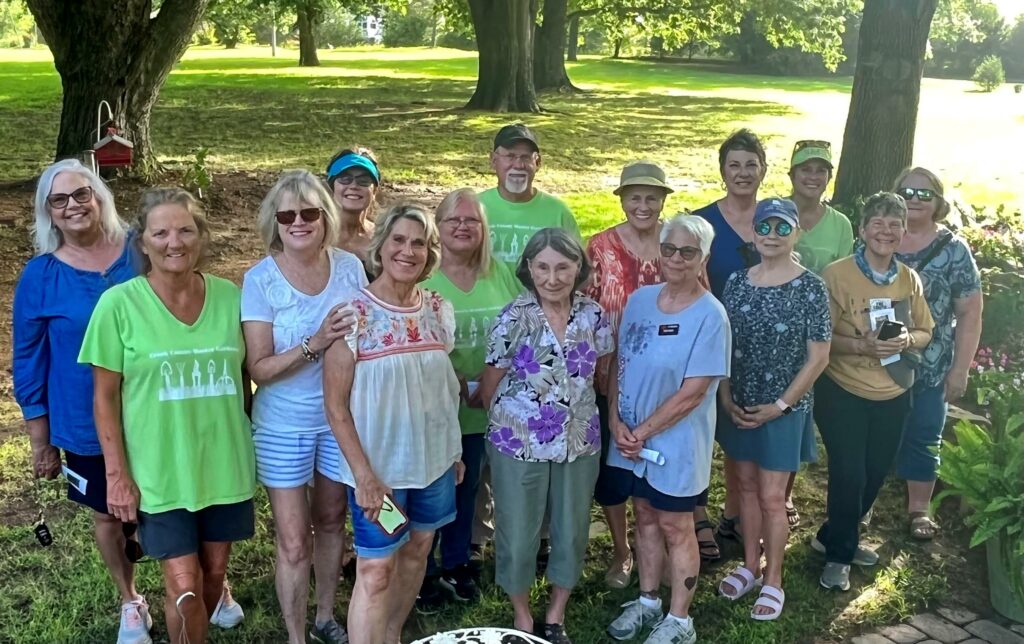 Bonnie has spent the last 33 years cultivating a treasure trove of a garden, filled with three-foot-tall hand-painted angels, bird baths (one adorned with two trumpet-wielding cherubs), a massive dinosaur sculpture, hand-painted cow skulls, a She Shed for her jewelry-making endeavors, special rocks, and art of all kinds, most of it done herself, such as special crosses commemorating all of her pets, to name just some of the contents. 
Everything there has a purpose—whether simply as a feast for the eyes or to attract butterflies, bees, birds, and squirrels. In fact, she even has a sourwood tree—the same kind Queen Elizabeth has at Buckingham Palace, from which the royal bees extract pollen to make the only honey Her Majesty eats! It truly is a magical and sacred place.
Originally from the Ada area and a retired aircraft mechanic at Tinker Air Force base, Bonnie "has been around plants all [her] life but didn't do anything with them" until moving to Sapulpa in 1989. But boy, has she done a lot!
Stepping into the next backyard on Teresa Avenue in Tanglewood, all of one's senses are activated—water gurgles from a fountain while hummingbirds frolic to and from a flowering red "firecracker" plant. The air is scented with lilac. A breeze flutters through a shade tree, "the largest Japanese Maple you've ever seen. Go over there—look up through it," advises homeowner and gardener Sarah McCormick.
To the right of the gate when you walk into the backyard stands the tall lilac bush, which houses a mockingbird nest. "We really invite the birds and squirrels [into our garden]…we invite nature into our yard," Sarah says. "I love the outdoors—I grew up on a farm. I enjoy doing anything outside."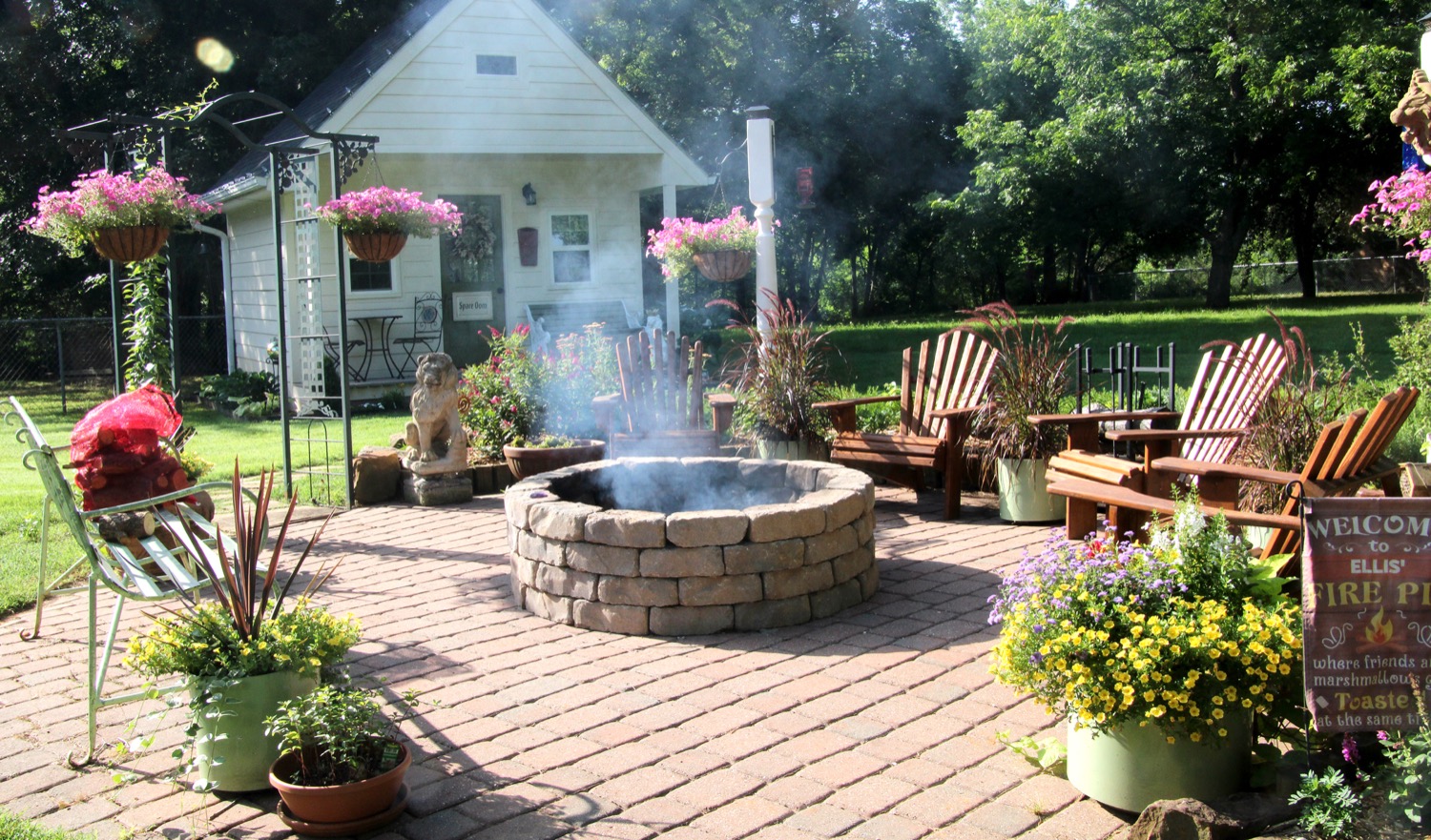 Though she and her husband Steve are not "official" master gardeners, it's surprising they aren't considering the sophistication and complexity of their home gardens and greenhouse. 
The entire backyard is landscaped, with beds built by Sarah and Steve at every corner. Their floriculture collection includes vermillionaire (the above-mentioned firecracker plant—an annual that the couple has managed to keep blooming year-round), a unique pink smooth hydrangea, and a dwarf Korean lilac. They also cultivate strawberries, blueberries, herbs, and heirloom tomatoes that Sarah germinated from her own seeds.
Not yet an avid gardener when she met Steve, Sarah says that when she met his grandmother who was, she "started paying attention and asking questions." She emphasizes, "This is a passion of mine—Steve doesn't really have a choice! But he enjoys it. We've learned a lot over the years."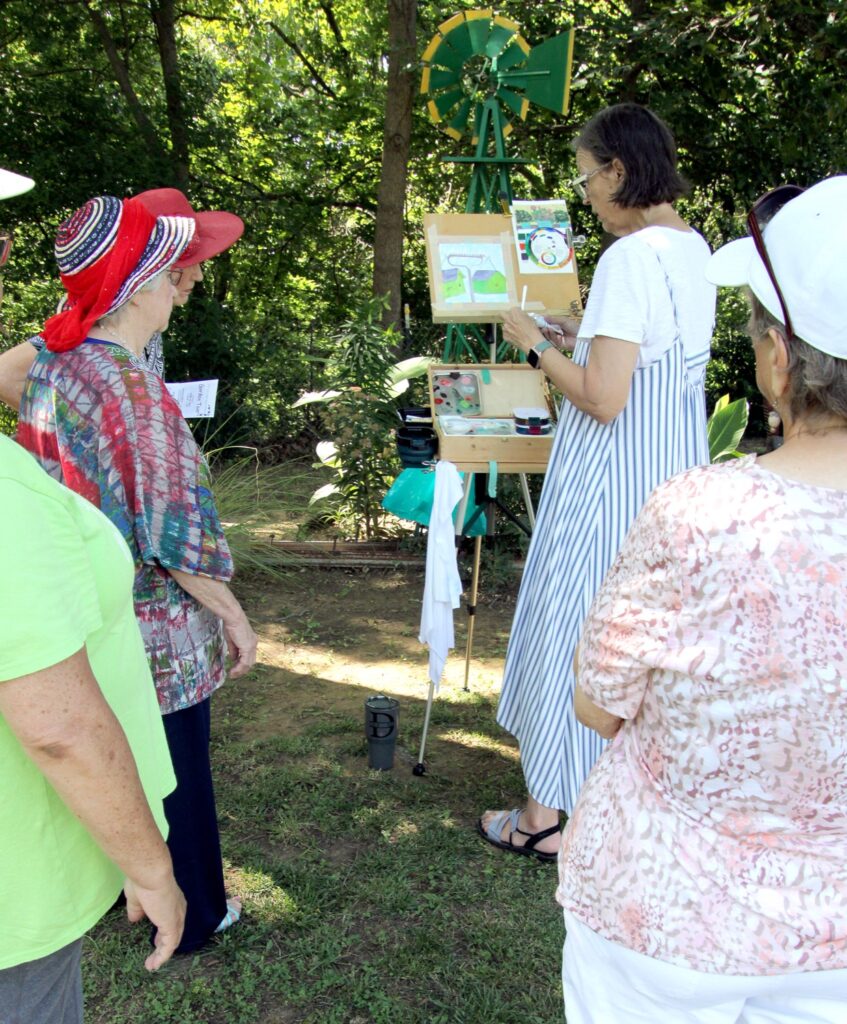 McCormick says that their garden "is a little different—it's very methodical and how it's laid out. I'm not about planting what's basic." She also plans her beds according to seasons and color schemes. "There's always something blooming and showcasing itself."
The McCormicks have lived in their home for about 19 years—they moved in when their youngest of two sons was just five days old.
When he left for college last summer, they were able to devote more time and energy to their horticulture hobby, specifically, by putting in a greenhouse. Sarah jokes, "We moved Parker to Norman and the greenhouse into the backyard during August of last year. We were able to bring in lots of new plants, including tropical plants. They wintered really well."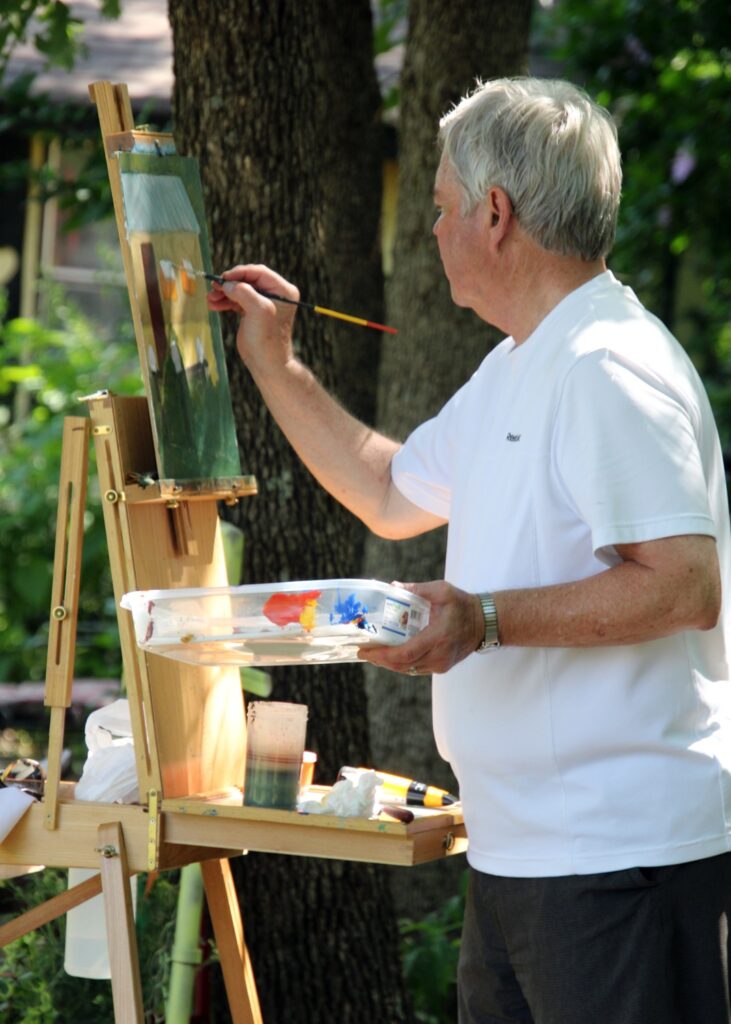 For the McCormicks, however, the practice of building and maintaining a garden is really more than a hobby. What they've created is "an oasis in the middle of the town; a getaway," says Sarah.
The love of nature and living things is a common thread that ties these gardeners together. The McDaniels love nothing more than reposing in one of their many seating areas and watching life unfold.
"If you're still, you'll notice things," Bonnie tells me. "Bluebirds, doves, cardinals, little yellow buntings, hummingbirds, and now butterflies are beginning to come in…It's a nature show." 
For information on how to become a Creek County Master Gardener, please visit the OKState Agriculture. 
All photos by Sheri Waldrop.