Food Truck Friday had its last show of the season on Friday evening, featuring BC & The Big Rig out for an evening of great classic and modern rock, attended by a solid crowd in the parking lot on Water Street behind Pat's Place on Dewey.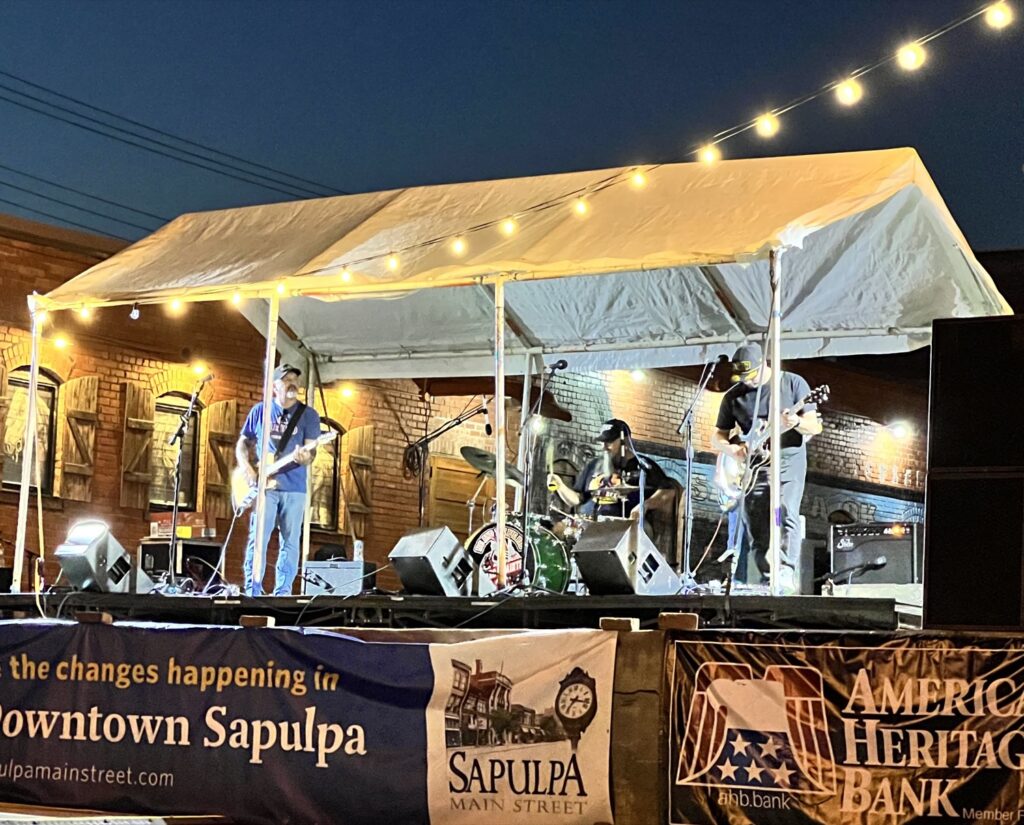 FTF, as it became known locally, seemed to get more popular during the early and later months when the dogged heat of the of summer wasn't so prevalent. Nevertheless, it provided a great opportunity for eating and live music not usually found in Sapulpa, and it proved that people would come to such events, if the weather permitted it.
It might be the end of Food Truck Friday (and it looks to be the end of The Saturday Farmers Market, as well, according to their Facebook Page), but it's not nearly the end for the schedule of events Sapulpa has scheduled for the fall and into the holidays. Here is a look at what's coming up in the next few weeks.
September 22nd – Dinner on Dewey
The 91st Annual Chamber of Commerce Banquet is repeating last year's event of a catered dinner in the middle of Dewey Avenue, with one very important change—it's in September instead of June. The later date will hopefully mean a cooler and more enjoyable event for the downtown dinner. The event, which runs at $70 per person, will include live music and dinner catered by Freddie's. At last count, the Chamber is expecting around 350 people. Notice of Road Closure: Dewey Avenue will be closed between Water and Park Streets from 9am to 11pm on Thursday, September 22nd. All side streets will remain open for access to shops and businesses.
September 23rd, 24th, 25th – Neil Simon's "Rumors" at the Sapulpa Community Theatre
In this murderous farce, four couples arrive at the 10th-anniversary celebration party for New York's deputy mayor and his wife, only to find the mayor wounded in bed and the wife missing! This zany comedy from one of America's best-loved playwrights is a wild stew of ridiculously hilarious complications that will have your audience laughing out loud. Showtimes are 7:30pm on Friday and Saturday, and 2:00pm on Sunday. Get your tickets at sapulpatheatre.org
September 23rd – Live Music at Dancing Skeleton Meadery
Live acoustic set with Jake Hand, Friday, September 23rd at Dancing Skeleton Meadery. Enjoy a glass of honey wine (aka mead) or craft beer with live entertainment. Dancing Skeleton Meadery is located at 609b S. Main Street.
September 22nd—25th – The Creek County Fall Free Fair
The 2022 Creek County Fall Free Fair will include competitions, carnival rides, a rodeo, a tractor pull, lots of fair food, and a special performance by local Country Music superstar James Robert Webb. Admittance is free, and the fair lasts for days! Get a full schedule of events at creekcountyfairgrounds.com
September 24th – Rock Creek Music Festival
The sixth annual appearance of the Rock Creek Music Festival proves the event is growing in popularity, and it's not hard to see why: the shade and general solitude of Kelly Lane Park, combined with the wide open area for vendors makes the event a must-stop for vendors and crafty-types. Music will start at 2pm and be provided by Wanda Watson, And Then There Were Two, and BC & The Big Rig.
October 14th – Hobson Hops
Another great event from 2021 is making a comeback to downtown Sapulpa and bringing live music, food trucks, craft beer and wine. Hobson Hops will be at 86 N. Park Street and will feature live performances by Denise Hoey, Brandon Jackson, and The Brothers Moore.