Hannah Oswalt
After 33 years of service to the City at the Sapulpa Fire Department, Chief David Taylor is retiring. Taylor was hired by the SFD in 1988, when he was just 23-years old. He has since made his way up the chain, spending 22 years in such capacities as working on the truck and serving as a Captain, then serving as a Battalion Chief for 3 years, and finally, as the Chief for the last 8 years.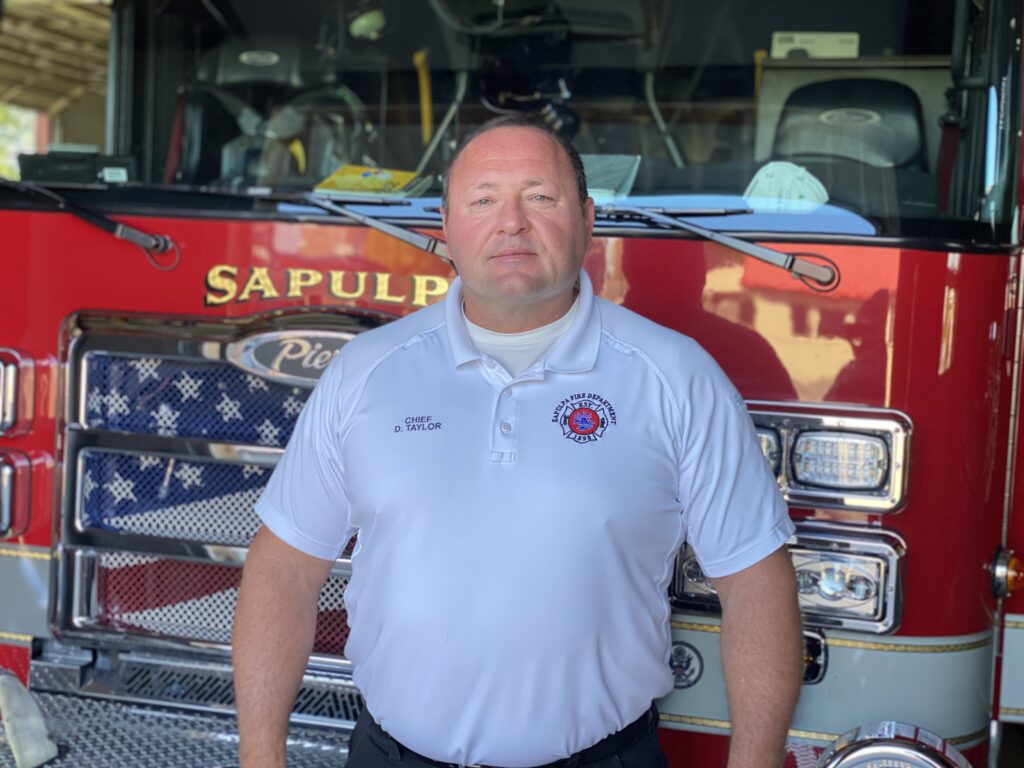 Taylor will be moving on to another opportunity—taking a fire equipment sales job with NAFECO. He'll be bringing his multitude of experience and a helpful eye into this field and he's ready to give it a go. "I'm excited with that because it keeps me connected to fire service somewhat," Taylor says.
A considerable amount of progress has been made at the department during Taylor's tenure, though he is characteristically quick to credit that to his colleagues. "I really can't say enough about the guys here—an awesome bunch of guys. The staff here that I have are great, I mean, they're just awesome. Ms. Riley, my boss, I can't say enough about her. She's been awesome to work with. You know, everything that we have done here at the fire department would not be possible without that support."
Emphasizing how big a part Joan Riley, Sapulpa's City Manager, has made in the progress of the department and what an impact her good leadership has had on his position, Taylor says, "I've done this when I didn't have that backing at City Hall and it was very difficult. So again, I can't say enough about her." Consistent support from the City Council was also critical to his success, he said.
Sapulpa's Fire Department is currently undergoing several improvements, some of which will have a significant impact on the City and its future residents. "We're trying to get this training center built," Taylor said, referring to the 2020 GO Bond project to construct a state-of-the-art training facility and administrative center on West Dewey, just east of the Auto Museum.
Additionally, "We're rebuilding Station No. 3" on Murphy, just east of South Main Street, "we're going to have a new fire truck in every station, and we've got two that we had refurbished that are just like new that we should have any day now. So I feel like, you know, I've left it better than I found it."
While he's excited to pursue new opportunities, Taylor also feels a weight of responsibility to see the current projects through. "I do feel guilty about leaving with all this stuff going on. But hopefully, we'll always have a lot of that going on. A lot of growth, a lot of new things."
And though Taylor reaffirmed multiple times that "It's time" for him to move on from the SFD, it will be difficult. Being a firefighter has become his identity. "After 33 years, it's hard walking away, you know, because these guys are like your family. They're like brothers."
The Chief says he is happy to assist his successor with the transition. "I think it's important that you know, the next Fire Chief is able to step in here and do things in the way that he thinks they need to be done. But I'm certainly available if I can help in any way."
When asked what advice he would give to his replacement, Taylor said, "There's just a great deal of involvement with the personnel and the public. You just have to be open and transparent, you know, being ethical is huge."
With a tentative exit date of December 31st, the outgoing Chief will have plenty of time to transition his duties to the incoming one, who is expected to be announced by Riley at November 15th's regular City Council meeting.